Auction Thankfulness
September 26, 2018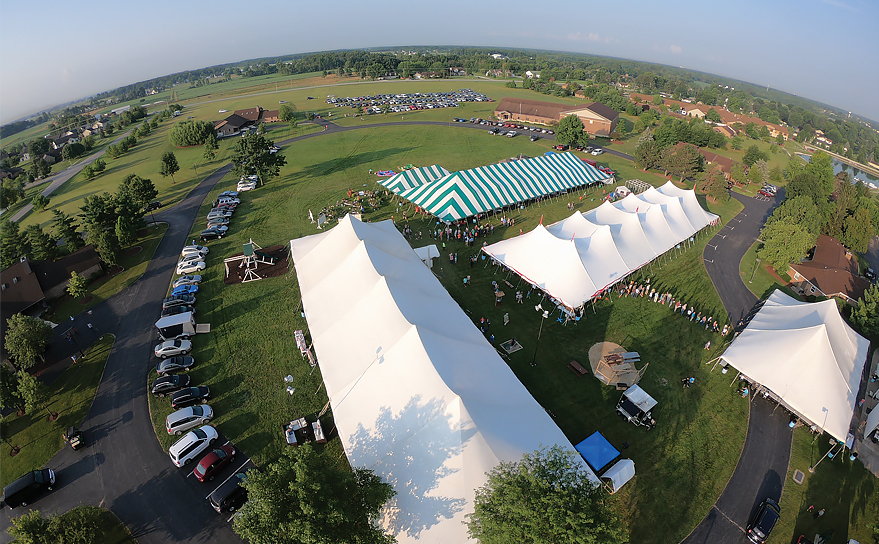 ---
The effectual fervent prayer of a righteous man availeth much. - James 5:16b

"Now thank we all our God…"
Those words of song swelled the white tent, as hundreds of people offered the sweet savor of gratitude to our Lord just moments before the opening gavel. The space was packed, the smell of delicious food permeated the air, and everyone stood in expectation. The forty-second annual Gateway Woods auction was underway!

"With Heart"
More that fifty years ago the Lord stirred the hearts of many brothers and sisters to bring about a ministry to children and families in trouble. That heart continues to this day, as the church continues this challenging but vital work of service. A veteran probation officer, with tears in her eyes, followed the songs with riveting testimony of bringing kids from tough situations to Gateway Woods. She offered an emotional thank-you to the church and to Gateway Woods for opening our hearts and homes to young people.
"And Hands"
It's time to give a hand for all the hands. Hundreds of volunteers and nearly 2000 guests make the auction go. And that's just on one day. The number of hands offering service and fellowship over the decades must be in the thousands. And we always want to remember those most important hands; the ones clasped in ardent prayer. "The effectual fervent prayer of a righteous man availeth much" James 5:16. Thank you for your ceaseless prayers for the work of the ministry and for the auction, and thank you for being the hands and feet of Christ!
"And Voices"
Beautiful songs of praise at start of day. Auctioneers voicing enthusiasm and excitement. Lively children laugh with delight. Joyful and animated conversations punctuate the air. Gracious greetings, fond farewells, and thoughtful words of thanks. We lift up our voices to praise our great God.
"Who wondrous things has done"
Yes, the 42nd annual auction was a wondrous thing! The Lord blessed and blessed and blessed, and His bounty carried the day.
"In whom the world rejoices"
We rejoice indeed in the wonder of the day. Thank you so much for your prayers, support, presence, purchases and love. We are excited to report a new record auction total of $645,000! And while the funding is necessary and nice, the sweet spirit of generosity, love and support is heartwarming and humbling. May the Lord richly bless you, as you have served children in tough situations. We will see you at next year's auction on Saturday, August 3, 2019!
---