2017 Auction Recap
September 06, 2017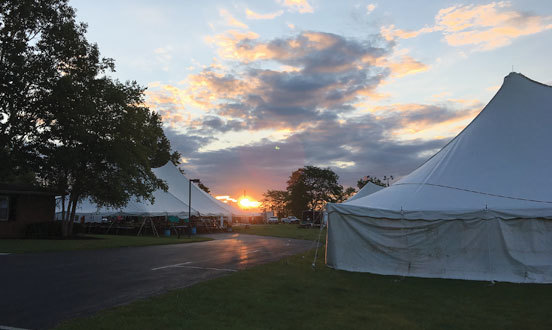 ---
Thursday was overcast. It was windy. Busy tying down large auction items to prevent trampolines and canopies from going airborne. Then it rained. Hard.
Then came Saturday. Auction day. The sun gloriously crested the horizon exposing misty grass and verdant fields. The early workers came. The sound of sizzling and the smell of sausage patties on barbecue grills, whetting appetites in anticipation of a breakfast sandwich. They rolled in, mostly by car, but some on foot and bicycle, coming from near and far; and the excitement was palpable. The parking field filled, and the buzz of anticipation swelled.
Eight-thirty A.M. The Gateway staff and children ascend the White Tent stage, preparing to praise God in song. A nervous titter rustles through the choir, and the White Tent swells with expectancy. Standing room only. Sweet praises, smiling faces.
Nine A.M. A brother prays, the cries of auction raise, and we're underway! First item, a hand crafted, handmade wooden rocking motorcycle. Sold! And the auctioneers ply their trade. Only 1,612 more items to go!
Reunion. Nearly two thousand guests. Brothers, sisters, families, neighbors, friends. Warm greetings, hugs, laughter, stories, and sales.
Children. Buying a toy, jumping for joy. Resident youth. Looking in wonder, pondering the splendor, and perhaps wistfully contemplating a childhood unrealized.
Tent sides gently rustling, as if to say, surely the Lord has been here this day.
Noon. A moment of silence. Heads bowed, hearts raised, thanks given. Praise God for this morning, and the coming afternoon! Now a pork chop sandwich, or a fruit cup, a deep-fried curly potato, or a salad.
Afternoon. The pace quickens, bids rise, ice cream sales soar. The thermometer, sliding upward, tracks the auction score.
Final bell. The day is done. Except for the clean up. Long farewells, some joyful tears. "See you tomorrow?" or "See you next year!"
Clean up. Youthful faces, Sunday school students, the future church. Making short work of the stuff to store. A year in the planning, a week in the setup, and three hours cleaning up, not much more.
Sunset. Just the tents remain. Golden hues signal the coming end of summer. Tent sides gently rustling, as if to say, "Surely the Lord has been here this day."
From the staff and board, along with the children and families that the church serves through Gateway Woods, we offer a most heartfelt thanks to you, while giving all praise and glory to God! The forty-first annual sale was day of sweet fellowship, grand generosity, and humble contemplation. The Lord blessed once again, and supplied an auction day record bounty of $638,000. Praise God from whom all blessings flow! We hope to see you at auction number forty-two, on August 4th, 2018.
---