Catching up with Cameron
March 01, 2020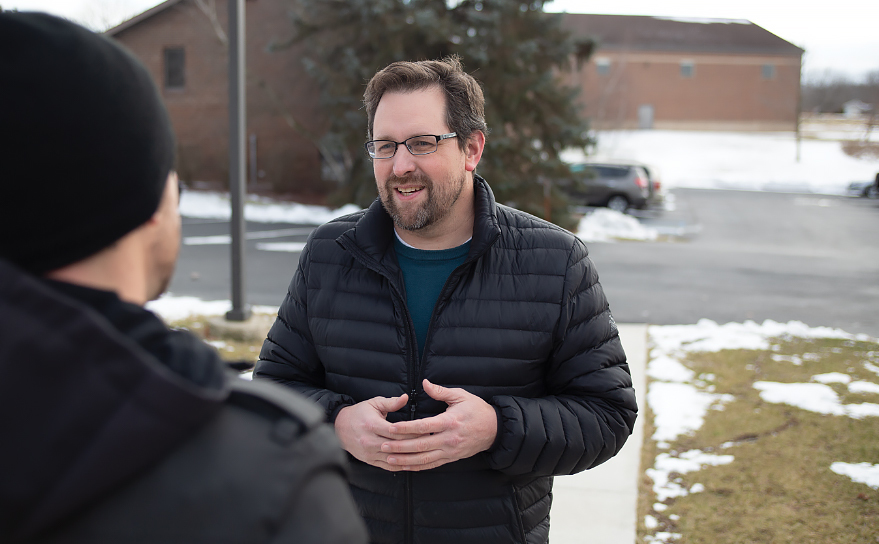 ---
Recently, I was able to meet up with a former resident of ours from when our family was houseparenting. He is now 23, married with 3 kids, and works on a hog farm. It was so encouraging to reflect back 7 years with Cameron and now see him in a healthy place in life. The following is an excerpt of our conversation:
What were your first impressions of Gateway?
I still remember the day you came and picked me up. I was intimidated – not fearful but just overwhelmed – because the lifestyle I was living was a night and day difference from living at Gateway. My environment wasn't as structured - I wasn't involved in a church. Normally, when I'm around new people, I don't talk much but the environment at Gateway was so welcoming and loving – that really allowed me to open up.
I remember being really impressed with how quickly you opened up – especially with the heavy stuff. What was one of the hardest parts of being at Gateway?
Not having the freedom to get a snack at 3 AM. Haha! Seriously, though, the hardest part was not being able to communicate with whoever I wanted – like my girlfriend. Just that separation from the things and life I knew was hard. Overall, it wasn't too bad…I just had to get used to how things were at Gateway.
Haha, yeah! Having the alarm go off at 3AM would not make me a happy camper! What was something that you learned from being at Gateway?
There's a lot. I reflect often about my time at Gateway. I definitely miss it. One thing I learned was patience. In today's society, everybody's used to instant gratification. I worked with my counselor, Roger, a lot on understanding the difference between instant gratification vs. delayed gratification. That gave me some of the tools to get my act together and be better later in life.
I work with a younger guy who's 18 and on work release from jail. I talk to him frequently and tell him to see this as "an opportunity. Use the tools you're learning to better yourself so you don't make the same mistakes again." That's something Gateway heavily impressed upon me. Like getting sent to Gateway – you can't come thinking, "ugh, this is the next year of my life and it's gonna stink." But if you don't use it as an opportunity to better yourself, nobody else will do it for you.
You mentioned you reflect often - what things do you miss?
I miss the structure and schedule. I miss the nonjudgement. You got people coming from all walks of life – gangbangers to drug users – and yet there's no judging. All were welcome and loved. Gateway staff tries their best to be accepting and understanding of anybody that comes.
Do you have a favorite memory?
Probably the Auction. I got to sing a solo with the Gateway choir, but just the whole experience of seeing the whole community come together – like, what, 2000 people? And to donate big money for simple items just to help Gateway. Whenever you see a community come together like that – you know there's something good there.
I have to admit, it was a neat moment for me as a houseparent to have two of our Maple House kids doing solos. It made me proud and you guys did a great job!
Do you have any final thoughts?
Just that, if it wasn't for my time at Gateway, I wouldn't be where I am in life now. I'm not sure if I would be sober or not. If it wasn't for the time I spent, and the lessons I learned, and the people I met there, I would be nowhere near where I am now. The stuff I learned gave me the tools that I needed to succeed in life. For instance, grieving. I went through some hard times where I lost a few friends. If it wasn't for learning about the grieving process with Roger, I wouldn't have those tools. But I had to pick up those tools and use them – they weren't gonna fix my life for me.
Cameron has mentioned to me before many of the things he learned at Gateway that he wants to pass along to his children. He takes his family to the church his in-laws attend regularly, and even though he is still figuring out his own personal journey with God, he shared of the importance of taking his children to church. Cameron's life is a living testimony of Gateway's mission: to honor and obey God by providing help and healing to troubled children and families who then may bless others.
---