Strahm's Adoption Experience
November 09, 2017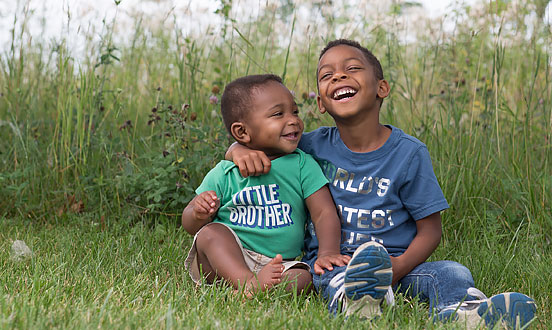 ---
The following is an interview with houseparents, Todd and Kara Strahm, who have two adopted boys, Ty and Zeb. Ty was adopted prior to coming on the Gateway staff and Zeb was the first child to be adopted by active houseparents.
Did you adopt domestically or internationally? Why was this your choice?
Domestically. We had friends adopt domestically and we were in awe of the relationship they built and maintained with their child's birth mom. We wanted to be able to have that same opportunity to be a witness for Jesus during a really difficult time in a young woman's life. We also had an intense desire to be parents starting from infancy, and adopting domestically was the way to fulfill that.
What has going through the adoption process taught you?
There are endless questions we can't answer about the broken world we live in. We have learned that we don't always have to know "why" but to trust God! God's design was for children to be raised in their biological families. But sin changed all that. We are imperfect people with a desire to be parents and a thankfulness to our Father for adopting us into His family. While we can't "fix" the world, we can fulfill both our heart desire for a family and God's heart desire for children to be raised in a home where they will be taught of His ways. And loved on. So loved. And given more hugs and kisses than they know what to do with.
You have changed a life by adopting - how has adoption changed you?
We have heard more times than we can count: "Your child is so lucky, blessed, fortunate, etc". Nope. We consider ourselves those things. We thank God for the gift of our boys through adoption and the privilege to call them our sons. Adoption has made us more selfless, less judgmental and more aware of our own nothingness.
What is one thing you would tell someone considering adoption?
"Do you wonder if you can love a child that's not your biological child? You can- in fact, you won't be able to stop yourself if you tried! Is there anyone in your life that you love who doesn't share your bloodline? Do you love them like crazy? When we brought our babies home, our hearts felt like they would burst. Don't hesitate if you feel God calling you to this!"
What is one thing you wish you knew going into the adoption process?
What an emotional rollercoaster the process is. We knew going into adoption that it would be a rollercoaster, but nothing can prepare you for just how bumpy that ride can be. But that wouldn't change anything and in the end, we would do it again. And Lord willing, we will someday!
Did adopting prepare you for your work at Gateway in any way?
Absolutely! It started with infertility. Wow! That's a whole other story. God was just getting started with us (isn't He still?!). And then bringing home our first son, Ty...it was beautiful! But oh so overwhelming to see a brave young woman leave the hospital with empty arms. And finally, a second adoption. A brother for Ty! But God had different plans and after almost 6 months of praying for our second child, he went straight to his Heavenly home instead of ours. We were instantly thrown on the other side of the adoption fence, where we were grieving the loss of a child, along side his biological family. Devastating and heartbreaking…yet wrapped in God's loving arms the whole time. Our Father whispering to us in our grief that this was not a mistake and we were right where we were supposed to be- in that hospital in Wichita, Kansas. We got a front row seat to families who are broken and realized we had underestimated the value of the the support network we grew up in. God had slowly been softening our hearts and changing our mindset, and there was no going back to "normal" life. Knowing about Gateway Woods (although admittedly, very little) through our church, we looked into houseparenting and within a couple months had our belongings packed up and moved 700 miles to work in this ministry!
The Strahms are now lead houseparents and continue to bless Gateway with their servant leadership. Their boys also bless every room they enter with energy and smiles that can brighten anyone's day. Watch their Adoption video on Vimeo.

---