History & Fruit
October 02, 2015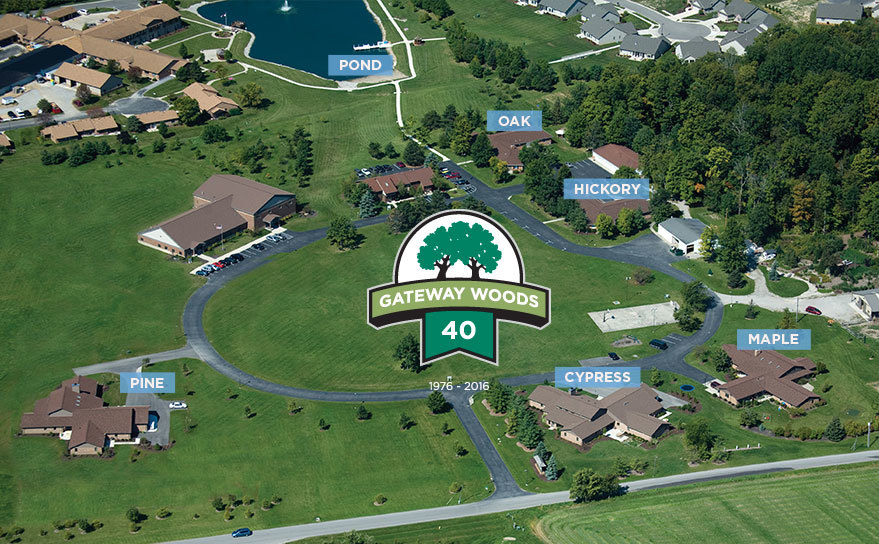 ---
Gateway Woods will be celebrating the 40th anniversary of serving children in 2016.

With the admission of our first resident on November 7, 1976, we actually became a "children's home". There were years of planning and construction and in the months prior, staff were hired, policies developed, supplies assembled and curtains hung. But until there was a child, we did not truly serve orphans.
Anniversaries are occasions for looking forward with anticipation and excitement, but also for looking back with reflection and thanksgiving. Where did the vision come from that led to a facility in Leo, IN? What's the source of the passion for ministry to lost and wounded children? Who in our past saw beyond the immediate needs of "our own" to heed the Spirit's call and the Word's command to "visit the fatherless"?
The Apostolic Christian denomination which began when our founder was driven from the Swiss state church in the early 1800s had an initial evangelical zeal and passion for the lost in their regions. Soon Samuel Froehlich and many of his followers were also driven out of the country and, in many cases, from the European continent. In the New World as they settled near other German/Swiss Anabaptists, a focus equal to evangelism, was simply survival and finding homes where faith could be practiced freely.
Whether because of seclusion and exclusion due to language, customs and faith or a newfound prosperity, the missionary zeal that brought many Apostolic Christians to the US in the first place was almost lost over the next 100 years. In many areas, evangelism was discouraged and missionary efforts were unsupported. Most family needs, crises and care for elderly and orphans were handled within families and local congregations without much effort to extend beyond the church community.
In the 1960s and 70s that slowly began to change as the responsibility of plenty collided with previously neglected or rationalized scriptures. Quietly, on an individual basis, family-by-family, and then church-by-church, a simple equation brought conviction that - what we have is what they need! Troubled children and families around us need what we have in abundance - stable marriages, solid extended families, supportive church congregations, adequate finances, extra places at the table and extra beds in homes. To know this and to not share these blessings would be wrong.
Old and New Testament scriptures that command true believers to give to the poor, visit the sick and imprisoned, and care for the old and fatherless are too numerous to ignore. And, the response needed to be more than just writing a check and agreeing to pray when it crosses our minds. God's wheels grind slowly but thoroughly. For leaders and believers who truly desire to understand and obey all of scripture, the Word will eventually illuminate, convict and motivate. When that happens the "sleeping giant" awakens and powerful and contagious things happen that can reach around the world.
Events that led to the founding of the Apostolic Christian Children's Home included couples from the Midwest becoming involved with a struggling Appalachian orphanage named Dessie Scott Children's Home in Pine Ridge, KY. In 1967 Art and Bertha Gasser and Chet and Roma Rufener from Rittman, OH and Herman and Helen Norr along with their daughter Elaine from Leo, IN visited the home and were moved by the extreme needs. Soon their passion became contagious and by 1968 they rallied 175 volunteers to help replace or repair other various buildings, provide funding, and even become board members. About that same time momentum for Apostolic Christian World Relief efforts was growing and funding was thus provided.
Seeds had been sown and others like the Norrs became catalysts who labored and lobbied tirelessly to develop a program for troubled children in the Midwest where members and resources are concentrated. In 1969, a 9-member children's home Exploratory Committee was formed. In 1973, final Elder Body approval was received, the name Apostolic Christian Children's Home was made official, and 73 acres in Leo, IN were chosen by lot from among several sites. In 1974, groundbreaking for the first two group homes was held, construction began, and the motto "A Work or Faith, a Labor of Love" from I Thessalonians 1:3 was chosen. During 1975 construction by hundreds of volunteers continued and the first administrator and houseparents were hired. In 1976, the Indiana license arrived September 17, Dedication was held October 24 and the first resident was admitted on November 7. In the midst of such a flurry of events and energy, the Home was finally in operation!
Over the decades Gateway Woods has grown to provide multiple different but related services. Many of these were delivered through the same patience and perseverance that birthed the original program while some no longer exist. Visit gatewaywoods.org/history if you're interested in some of these key events in our history.
It is marvelous to see where those who have passed through Gateway Woods in various capacities have gone and what ministry they have delivered across the community, region, country and world. It is satisfying to know that Gateway has been a training ground for many who have moved on to do amazing things for the Kingdom in other places. While some are more direct than others, all are a testimony to God's patience, faithfulness and provision.

Scores of adoptive and foster parents are raising children from down the street or from across the globe in Christ-centered homes. Numerous full-time workers in the US and missionaries in foreign lands bring faith and hope to the lost and wounded. Organizations like His Ranch in MO, My Sister's House in IL, 4 Kids of South Florida and The New Beginnings in FL, Casa Vida y Esperanza in Mexico, HarvestCall (AC World Relief/Missions), Loving Shepherd, ACCFS, and Lifesong for Orphans operating in the US and in numerous foreign countries have relationships and staff connected to Gateway Woods; who would have thought, who would have dreamed!
May God be glorified and may we all be encouraged as we celebrate 40 years in 2016.
---