Worth the Wait
November 02, 2021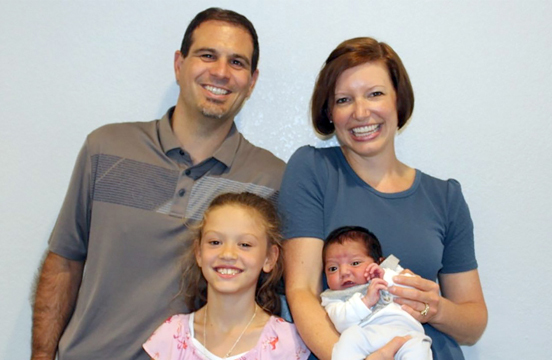 ---
May the God of hope fill you with all joy and peace as you trust in Him, so that you may overflow with hope by the power of the Holy Spirit. - Romans 15:13
Adam and Rachel Riley had the desire to grow their family through adoption, but the path to adoption led them on an unexpected journey that challenged and grew their faith. "We had not expected in our adoption journey to grow so much in our capacity to love people in broken places, offer mercy and grace again and again, and to cling to God's character like there was no tomorrow!"
They were matched with three separate expectant mothers who were considering an adoption plan. For various reasons, these matches did not end in an adoption for the Riley family. Throughout this process, Adam and Rachel allowed God to work in their hearts to prepare them for the next stage of their adoption process. "Without these forced times of reflection, crying out to God, and learning to be content in His plan, another match that shifted and changed could not have been endured! God had done a work in our hearts we know prepared us!"
After three failed matches, God brought another expectant mother into their lives. "We were able to say with every confidence in our being that we trusted God knew the best place for this child." The birth mom spent some time with her baby, giving her precious time with her cherished son as she considered the permanency of an adoption plan. Believing they had obeyed God and trusted His plan for their family, this birth mom, and her son, Adam and Rachel believed that this would be their fourth failed match. However, just a few hours later, they got a call that the birth mom chose to entrust her son into their care!
"We are forever grateful and humbled by Isaac's brave birth mother! Although she has not been at a place yet to communicate with us, we have the deepest respect and love for her. Again, we know this is something only God could do in our hearts!"
The Riley's adoption journey took them to unexpected places, but God was present through it all. Just as for each of us, God knows and cares deeply about us and for those whose lives intersect with ours in unexpected ways, as was experienced by the Riley family in their adoption journey.
---